After we made it home from our adventure, Brent immediately came home to supervise me and bring me and the babies to the Promised Land to meet up with the rest of the family, on their way to a family reunion/vacation in the mountains.
Look at the scenery here, will ya?
We took a stroll to the lake nearby and listened to a sermon while a weird guy did yoga. Ezra wanted to know why he was naked. The next day we went to a little man made beach on the lake and it was the perfect destination for our little family. Arwen proclaimed it was "the best water experience ever".
This was shortly followed by the second third fifth one of the top ten most stupid things I've ever done. (Okay, so I've done a lot of stupid things.)
The next day we had our "worst water experience ever." Admittedly, it was by choice. We took the whole family tubing on the Chattahoochee river. See previous statement about caution and wind.
Uh. Whoops.
In our defense, we were assured by other family members that it was totally baby friendly and more like a "lazy river" than tubing. The water was no more than two feet deep, and the "rapids" simply spun your tube a little down a 6″ drop. I would agree that this river was quite lazy. It did barely ANYTHING to move us along. So there I was, in a giant inner-tube with a seven month old, floating along and "bbbbbvvvvvvvvppppppttttt" , the vinyl of my tube slid to a stop. Stuck on the tip of an algae covered boulder. Now, what do you do when you are in a river, on an inner-tube, with a baby in your arms, and stuck on a rock? Any bright ideas? Because this happened repeatedly. As in, every fifteen feet or so. I was STRANDED with a baby with no transportation, that's for sure.
Our trip down this "lazy river" was supposed to be an hour long. I began to despair approximately 1 and a half hours into it after listening to Titus scream for 45 minutes. I couldn't ignore the nagging feeling of being STRANDED again, just like in Tuscaloosa. I don't do "helpless" very well. I tried to be thankful for the smooth stones I walked on as I tried to just let Titus ride in the tube (it had a bottom in it) while I pushed it along. But mostly I was just really mad about being stuck by myself in this stupid river with my baby. Brent had a couple kids somewhere down stream, my dad had a kid somewhere up stream, and my mom stuck close with Ezra. Until she got pummeled off her tube and run over several times by a gaggle of jerks. We were in two feet of water for crying out loud. Finally I convinced a strange man to rescue my mother and son and we waited on the bank for my dad to appear. Bless his heart, he now had the task of herding an injured Grammy, a four year old, a 7 year old, and a grumpy Mamma and her screaming baby about another mile down the river. It was ridiculous and miserable. He deserves a medal.
And I don't ever want to talk about it again. Just know, that if anyone ever tries to convince you that it's a good idea to take your baby tubing, you can slap them in the face and tell them that your idiot friend Missi did it and you know better now.
Just when we were recovering from the trauma Brent got a call that his grandpa was in life threatening condition in the hospital and no one was with him. Brent rushed to be by his side, leaving me STRANDED on the side of a mountain. Again, with kids and no transportation. What's with the theme?
After he got to the hospital it was discovered that his grandpa's life was not threatened and he did have a couple of family members near by checking on him. We were still glad that Brent was able to get to him quickly because we love Grandpa Farmer dearly. Brent got a hotel and I spent the entire night keeping everyone settled in strange beds. I was mad because the rest of the family had been going off doing fun things all day and me and the kids (and my parents by proxy) were stuck at the cabin.
I struggled to be content. I'm just being honest here, because I know that we all have these struggles and somehow convince ourselves that no one else does. I wanted to dwell on "S" is for STRANDED. Because here I was AGAIN stuck with kids and nowhere to go. Our basic needs were completely met. We had family with us. We had WIFI. Shoot, I even brought along my favorite pickles. And I still couldn't be happy.
And this made me even more mad. At myself. I need Jesus so bad.
At the other end of a restless night a text from a friend awaited me. She felt like her storm shelter from life was about to collapse. In praying for her, I got the resolution I needed. The Lord brought my mind to Psalm 139.
O LORD, you have searched me and known me!
You know when I sit down and when I rise up;
you discern my thoughts from afar.
You search out my path and my lying down
and are acquainted with all my ways.
Even before a word is on my tongue,
behold, O LORD, you know it altogether.
You hem me in, behind and before,
and lay your hand upon me.
Such knowledge is too wonderful for me;
it is high; I cannot attain it.
Where shall I go from your Spirit?
Or where shall I flee from your presence?
If I ascend to heaven, you are there!
If I make my bed in Sheol, you are there!
If I take the wings of the morning
and dwell in the uttermost parts of the sea,
even there your hand shall lead me,
and your right hand shall hold me.
If I say, "Surely the darkness shall cover me,
and the light about me be night,"
even the darkness is not dark to you;
the night is bright as the day,
for darkness is as light with you.
For you formed my inward parts;
you knitted me together in my mother's womb.
I praise you, for I am fearfully and wonderfully made.
Wonderful are your works;
my soul knows it very well.
(Psalm 139:1-14 ESV)
I encouraged her that her storm shelter was the Lord and He never faints or grows weary. He is a sure protector and she was free and SECURE to praise Him in the storm.
I could very easily read this passage to state:
"You know when I am stranded in Tuscaloosa and when I am safe at home.
You search out my path and my lying down.
You hem me in, behind and before, and lay your hand upon me, even when I'm being a grumpy jerk.
If I am stupid enough to go tubing with my baby and get stranded on a river, you are there!
If my husband gets called away during our only vacation of the year and I am stuck on the side of a mountain, even there your hand shall lead me, and your right hand shall hold me.
Wonderful are your works; my soul knows it very well."
God is so gracious to free us! So faithful to love us when we act as though we have been abandoned. I realized I was free to be secure, in the midst of a life that is changing and uncertain right now. I longed for solid, familiar ground to stand on and I found it in His Word.
Evie and I wandered outside and played bubbles and then treated ourselves to a lunch of hot dogs, pickles, and green Naked juice.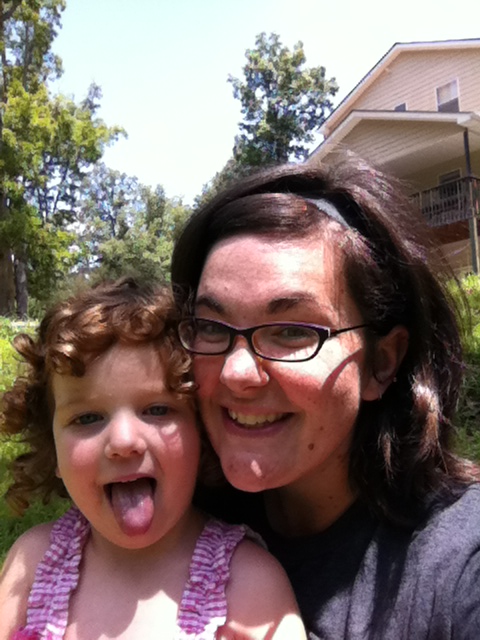 And just like that, all was right with the world again. All was right all along. It was me that was wrong.
"S" is for Secure. We are always secure with Jesus. Always.
But I am never leaving my house again.